Artificial Intelligence Face Recognition
Familiar Faces notification and `stranger' alarm
Your child's end of day `Daily Summary Video'
Smart Auto Smile Detection and Photo Albums
24/7 live video and smart event recording
Wide Angle HD Video Camera with Night Vision
Room Temperature Detection
Remote Pan and Tilt Feature
Instant Push Notifications during the day
Two-Way Audio and Lullabies
+ Join more than 10,000 happy families who use Invidyo.



"The standout feature is that Invidyo filters the important parts of the child's day into summary videos that parents can view from their phones"

"Like something out of Black Mirror, this innovative gadget, Invidyo AI Video Baby Camera, uses artificial intelligence to pick out your baby's face as well as their emotions."

"An ideal set up to have when you've left your toddler with a babysitter, but don't want to miss out anything."

"Here is a child monitor that uses artificial intelligence to give parents peace of mind."

"Invidyo is using A.I. to give parents highlights and smart notifications when they are away at work."

"For parents who can't be with their children as much as they'd like, Invidyo is the solution."

"Invidyo is the technology to have if you are a working parent, or just want to keep an eye on your babysitter."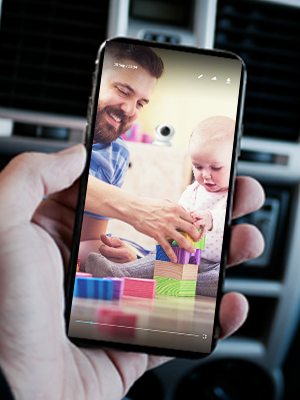 Invidyo A.I. Video Baby Camera
See, talk, record and care for your baby remotely.
From the Invidyo app on your phone, see your baby in clear full HD 1080p and night vision, watch event videos on history timeline, say hello using two-way talk, and get smart crying, motion and sound alerts.
Have peace of mind that your baby, home are safe and your babysitter does the care giving in gentle and affectionate way.
Invidyo Video Baby Camera has a built-in speaker and mic, so you can hear what's happening at home. Or let the babysitter know you're paying attention.

Free cloud storage. Invidyo safely and securely stores your video history in the cloud, so you can access it anytime.

Invidyo Smart Cam takes only a few minutes to install. Literally. Just plug it in and set it up from your phone.

Multi room camera avaliability. Watch all your cameras with one app. Watch from your iOS and Android smartphone, tablet or computer anytime from anywhere.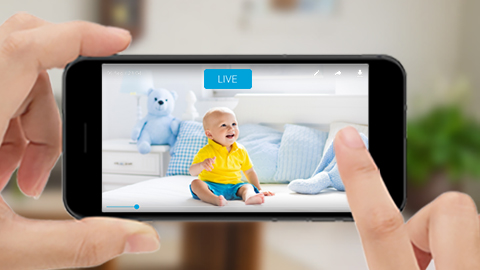 1080p HD Video & 24/7 Recording
Catch Every Moment + Daily Summary Videos | Records everything. Just in case. So you don't miss anything. Invidyo A.I. Baby Camera is on watch 24/7 without a blink. And saves up to 30 days of footage securely in the cloud. So you never miss a thing. Invidyo also generates "Smart Daily Summary Videos" at the end of everyday where you can catch up with your baby's day just in minutes.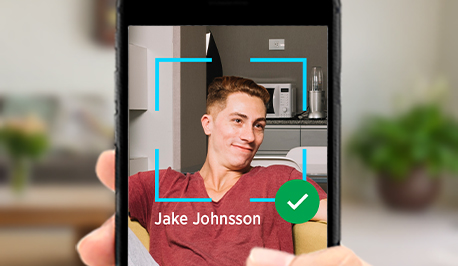 Smart Face Detection & Stranger Alerts
Invidyo knows a person from a thing | "Artificial Intelligence Invidyo Face Detection Technology" offers a face recognition system to identify a person and obtain his/her information. It knows everyone who belongs to your household. Detect, identify and verify who is in the household. If a different person or stranger is around, you immediately receive an 'Stranger Alarm' by push notification and e-mail.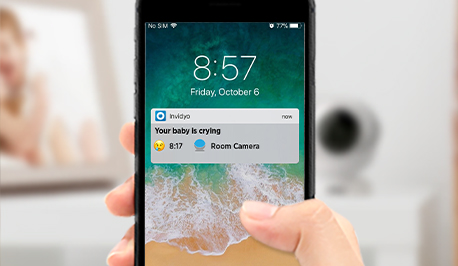 Instant Smart Notifications & Crying Detection
Get alerts that matter | Invidyo Smart Baby Camera always looks for motion and listens for conspicuous sounds or your baby's crying. If Invidyo thinks something's up, it'll send a phone alert or an email with a key image from the event. And if you miss an alert, you can see photos and recordings of it from history timeline in the Invidyo app .You can set advanced smart notification sensitivities and pick out the events and activities you care about.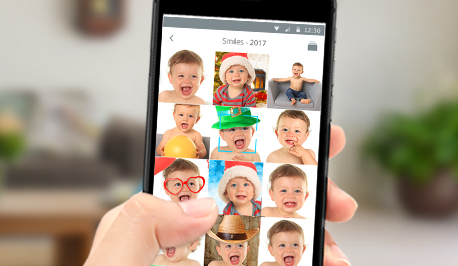 Invidyo Smile Detection + Albums
Your baby's personal photographer | Invidyo records a snapshot whenever your child smiles. You can find the latest smile photos in you Invidyo App (iOS&Android). It also generates smile albums so that you can enjoy their smiles for years. Smile albums are stored in cloud for free. You can view or download them anytime.